It's worth understanding a few technical terms that will help you when choosing a pair of binoculars. A binocular basically conprises of two optical systems that are joined by a hinge and they usually share a common focusing mechanism. The ability to create an image for both eyes simultaneously generates a realistic perception of depth.
Binoculars are available in a great variety of sizes, magnifying powers and features to suit many different applications.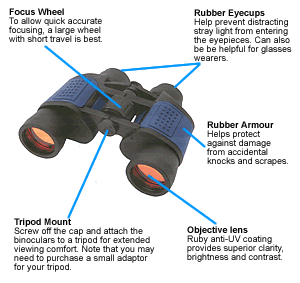 Magnification and Brightness
All binoculars are described with a number, for example, 8x21. The first number tells you the magnification, so 8x makes the subject appear eight times closer.
If you are viewing small subjects at long distances, you will probably need larger magnification and for subjects at close distance, you will probably find a smaller magnification is better. You should be aware that more powerful binoculars will magnify any unsteadiness when you are holding the instrument (shake), so choosing a smaller magnification may give an apparently sharper image than a larger magnification.
The second number tells you the diameter of the objective lens (that's the large lens at the other end of the binoculars from the eyepiece). Dividing the diameter of the objective lens by the magnification of the binoculars gives a measure of how bright the binoculars will be (Brightness Index). For example, an 8x21 binocular has a BI of 21/8=2.6. In daylight, a BI of 2 to 3 is normally satisfactory, but in low light, a BI of around 5 or more (e.g. 8x40, 7x50) will be much better.
Angle of View
The angle of view is also known as field of view. If you can see a wide area of the subject, it's much easier to find the part of the subject you want to look at. Generally, a more powerful binocular has a narrower angle of view, but there are variations between the models. A good 8x binocular should have an angle of view of 6° to 7°, or more, while a 12x model may offer as little as 4° or 5°.
Lens Coatings
All good binocular lenses are coated in order to reduce internal reflections and improve the image quality. It's possible to give even better viewing, i.e. by reducing ultra violet distortion.
Some typical types of coating are:
Coated – A single layer on at least one lens surface.
Fully Coated – A single layer on all air-to-glass surfaces.
Multi-Coated – Multiple layers on at least one lens surface.
Fully Multi-Coated – Multiple layers on all air-to-glass surfaces.
Prisms
Some binoculars are constructed with BaK-4 prisms, which utilise a superior glass to provide bright, clearer, sharper images than would be achieved with 'ordinary' prisms.

In a 'Roof Prism' Design the prisms overlap closely, allowing the objective lenses to line up directly with the eyepiece. The result is a slim, streamlined shape in which the lenses and prisms are in a straight line. Roof prism binoculars are less bulky and more rugged than an equivalent porro model.

In porro prism binoculars the objective or front lens is offset from the eyepiece. Porro prism binoculars provide greater depth perception and generally offer a wider field-of-view. Because of the simplicity of this system, some of the best values can be with a porro design.
Long Eye Relief
If you wear spectacles, you may find long eye relief helpful, as it will allow you to view a subject in greater comfort, without pressing your glasses against the eyepieces. It's also helpful for short sighted users.
Exit Pupil
Refers to the size of the circle of light visible at the eyepiece of a binocular. The larger the exit pupil, the brighter the image. To determine the size, divide the objective lens diameter by the power (an 8x32 model has an exit pupil of 4mm).

Diopter Adjustment
A "fine focus" adjustment ring usually provided around one eyepiece to accommodate for vision differences between the right and left eyes.
Waterproof/Fogproof
Some binoculars are O-ring sealed and nitrogen-purged for total waterproof and fogproof protection. These models can withstand complete immersion in water and stay dry inside. The interior optical surfaces won't fog due to rapid temperature change or humidity.
Rubber Armor
Rubber armor provides multiple benefits. It helps protect the binocular from the bumps and scratches that come with day-to-day use. It provides a comfortable gripping surface for making them easier to hold on to. It's easy to wipe clean after a tough day in the field. And it suppresses noise if the binocular bumps aluminum or other non-rubber surfaces, which might otherwise spook wildlife
PC-3® Phase Coating
Found on the best roof prism binoculars, this chemical coating is applied to the prisms to enhance resolution and contrast. Would not provide an advantage on porro prism models.
Safety
Last but most important, Never look at the sun through binoculars, telescopes or any other optical equipment.